PHS Aweigh
Enjoy our family-friendly take-and-go projects!  Each weekend, look for our special projects that you can pick up and take home. Each weekend has its own historically based theme and will help you explore a new topic. Email us your story or essay, colored historic photos, and trivia answers or upload them to social media and use the hashtag #phsaweigh.
Saturday, July 17, 1-4pm
Space Adventure on the PHS Campus Lawn
Did you know that a famous astronaut (Richard Gordon) graduated from North Kitsap High School? To celebrate, we are hosting a fun afternoon of space games and activities! Suggested donation of $10/family. All ages are welcome!

Saturday, July 24, 7-8:30pm
Night at the Museum – Martinson Cabin
Join us at Martinson Cabin for a historic scavenger hunt in the dark! Bring flashlights (or headlamps) and your sense of adventure. Prizes for completion of the scavenger hunt. Suggested donation of $5/family to help cover costs. All ages welcome!
Saturday, July 31, 10-4
Coast Guard Day at the Maritime Museum
Learn about the history of the US Life Saving Service, today's Coast Guard mission, and maybe even meet a small boat crew stationed here in Washington (TBD)! There will be activities for kids, and prior Coast Guard members at the museum to answer any questions and share sea stories. All ages.
Saturday, August 7, 3-3:30
FREE Community Water Balloon Fight on the PHS Campus Lawn!
To honor National Water Balloon Day, we are hosting a free community water balloon fight on our PHS Campus Lawn! Come prepared to get wet, and have a blast. Water balloons and water guns will be provided (no outside supplies, please). All ages welcome.

Saturday, August 14, 1-3
Poulsbo Pirate Adventure!
Aaarrrrgghhh Mateys! Get ready for swashbuckling fun at the Maritime Museum! Learn about the pirates and explorers of the west coast. Create crafts, explore our exhibits, and win fun prizes. All ages welcome. Suggested donation of $10/family to help cover costs.                     
Saturday, August 21, 11-1
Ice Cream at the Cabin
Today is National Spumoni Day, and to celebrate, we will have artifacts on display that would have been used by early homesteading families to make delicious ice cream! Come check them out, learn some ice cream trivia, and finish your tour with your own free ice cream from PHS (while supplies last). All ages are welcome.        
Events are subject to change. If you have questions please contact Jessica Wall, Education Outreach Coordinator at [email protected] or 360.440.7354. To receive information about our programs in your inbox, sign up for our monthly e-newsletter.
Watch our recorded virtual program about the census:
100 Years of Growth and Diversity in North Kitsap
with Sharon Lee, Poulsbo Branch Manager, Kitsap Regional Libraries
Imagine you are a museum curator, and have been tasked with creating an exhibit with objects donated to your museum. Follow along with this project and become the curator of things in your own home or in nature!
Driftwood Boat Craft
This is a great craft for kids and adults alike! Decorate your home or front porch with your own driftwood boats, decorated with colored paper, watercolors, or paint. We'd love to see what you come up with!
Poulsbo has a proud history of rosemaling! Read about popular courses taught in the 1970s and see samples of gorgeous work by  local artist Anna Donner.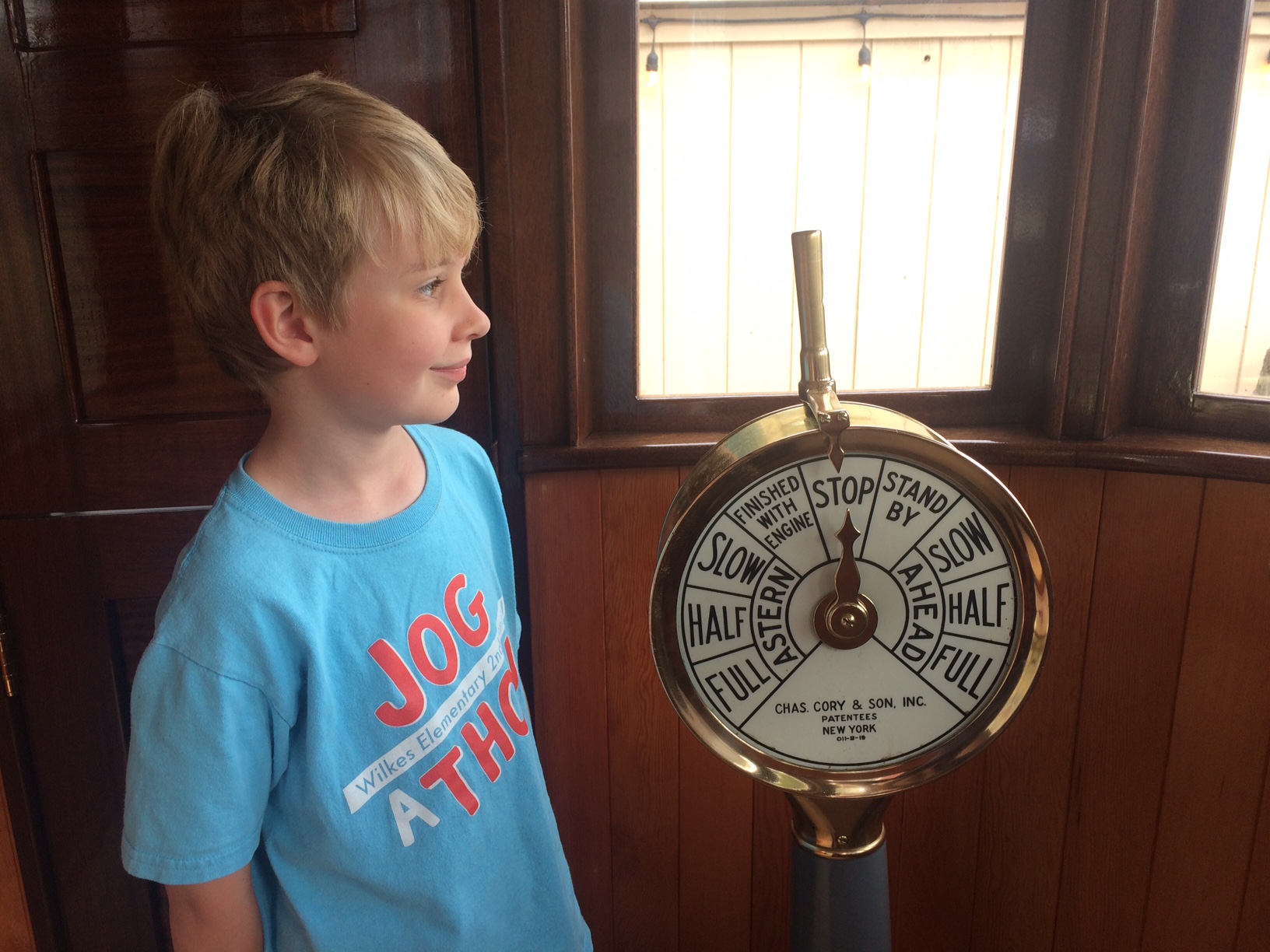 Write a story or essay!
Imagine if you were a kid in Poulsbo when the steamship Hyak was running…
Describe your trip into the big city of Seattle.  Or use one of these other ideas:
Story or essay ideas
Test your knowledge!
Take the Trivia Master Challenge
Remember! Email your answers to:
[email protected]